Shapes of Suprematism Red
Regular price
Sale price
$42.00
Unit price
per
Sale
Sold out
Shape Suprematist artworks with no boundaries.
Build your own artwork, experimenting with the perspectives, geometries, and forms of the XX Century Suprematist art movement.
The pack includes 7 standing methacrylate pieces inspired in Malevich shapes, in red, and an elm wood base with 5 lanes. Slide the pieces on the grooves, make them stand, and enjoy creating!
Precise cut methacrylate makes the outlines smooth and resistant.
Other Artsy 'Shapes' of available clicking here.
SPECIFICATIONS
Dimensions (wood base):
Length: 39 cm / 15.3 in
Width: 8 cm / 3.1 in
Height: 0.9 cm / 0.35 in
Tallest piece: 17 cm / 6.7 in
Weight:
304 g / 0.67 lbs
Material:
certified elm wood & methacrylate
Color:
red (blue and black also available)
Includes:
1 x wood base with five grooves
7 x different sized methacrylate Suprematist-geometrical figures
Handmade in Barcelona
--
This game is the gate to not only a Kazimir Malevich general rendition, but also to an interactive way of experimenting and creating with the main forms that Suprematism used to establish its own foundations, taking a seat within abstract art geometry with artists like Kandinsky, Suetin, Khidekel, El Lissitzky, and even Le Corbusier; showing up together with vanguardist Constructivism in the 1910s Soviet Era Russia; and nurturing many later styles in architecture and design like the Staatliches Bauhaus School, from which Walter Gropius and Mies van der Rohe, for example, would appear.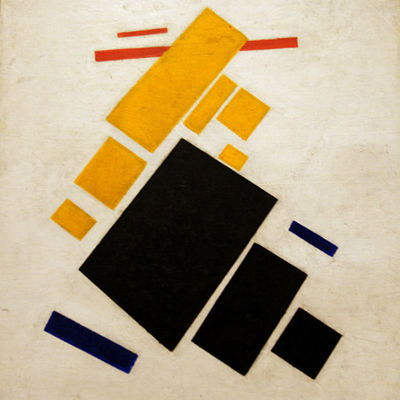 A great gift for art lovers that crave for some customization in their objects, you have all the needed elements required to compose a new Suprematist or Post-Suprematist piece of art.
This is the rawest version of the Suprematism-related Shapes of, keeping the simplicity and pureness that Malevich sought with his Black Square painting (1915) and posterior basic motives (the Black Circle canvas, also from 1915, or the Black Cross alike), but turned an unavoidable visual force by the bright and sharp red color we printed the methacrylate in. No wonder we used to place "Shapes of" items on the "Living" section of our website.